The Old Man at the Bridge

An old man with steel rimmed spectacles and very dusty clothes sat by the side of the road. There was a pontoon bridge across the river and carts, trucks, and men, women and children were crossing it. The mule-drawn carts staggered up the steep bank from the bridge with soldiers helping push against the spokes of the wheels. The trucks ground up and away heading out of it all and the peasants plodded along in the ankle deep dust. But the old man sat there without moving. He was too tired to go any farther.
It was my business to cross the bridge, explore the bridgehead beyond and find out to what point the enemy had advanced. I did this and returned over the bridge. There were not so many carts now and very few people on foot, but the old man was still there.
"Where do you come from?" I asked him.
"From San Carlos," he said, and smiled.
That was his native town and so it gave him pleasure to mention it and he smiled.
"I was taking care of animals," he explained. "Oh," I said, not quite understanding. "Yes," he said, "I stayed, you see, taking care of animals. I was the last one to leave the town of San Carlos."
He did not look like a shepherd nor a herdsman and I looked at his black dusty clothes and his gray dusty face and his steel rimmed spectacles and said, "What animals were they?"
"Various animals," he said, and shook his head. "I had to leave them."
I was watching the bridge and the African looking country of the Ebro Delta and wondering how long now it would be before we would see the enemy, and listening all the while for the first noises that would signal that ever mysterious event called contact, and the old man still sat there.
"What animals were they?" I asked.
"There were three animals altogether," he explained. "There were two goats and a cat and then there were four pairs of pigeons."
"And you had to leave them?" I asked.
"Yes. Because of the artillery. The captain told me to go because of the artillery." "And you have no family?" I asked, watching the far end of the bridge where a few last carts were hurrying down the slope of the bank.
"No," he said, "only the animals I stated. The cat, of course, will be all right. A cat can look out for itself, but I cannot think what will become of the others."
"What politics have you?" I asked.
"I am without politics," he said. "I am seventy-six years old. I have come twelve kilometers now and I think now I can go no further." "This is not a good place to stop," I said. "If you can make it, there are trucks up the road where it forks for Tortosa."
"I will wait a while," he said, "and then I will go. Where do the trucks go?"
"Towards Barcelona," I told him.
"I know no one in that direction," he said, "but thank you very much. Thank you again very much."
He looked at me very blankly and tiredly, then said, having to share his worry with some one, "The cat will be all right, I am sure. There is no need to be unquiet about the cat. But the others. Now what do you think about the others?"
"Why they'll probably come through it all right." "You think so?"
"Why not," I said, watching the far bank where now there were no carts.
"But what will they do under the artillery when I was told to leave because of the artillery?"
"Did you leave the dove cage unlocked?" I asked.
"Yes."
"Then they'll fly."
"Yes, certainly they'll fly. But the others. It's better not to think about the others," he said.
"If you are rested I would go," I urged. "Get up and try to walk now."
"Thank you," he said and got to his feet, swayed from side to side and then sat down backwards in the dust.
"I was taking care of animals," he said dully, but no longer to me. "I was only taking care of animals."
There was nothing to do about him. It was Easter Sunday and the Fascists were advancing toward the Ebro. It was a gray overcast day with a low ceiling so their planes were not up. That and the fact that cats know how to look after themselves was all the good luck that old man would ever have.
پیرمردی با عینك فلزی و لباسی سراسر پوشیده از خاك كنار جاده نشسته بود. پلی موقتی بر روی رودخانه كشیده بودند و گاری ها، ‌چرخ دستی ها، مردها ، زن ها و بچه ها از روی آن می گذشتند. گاری هایی كه با قاطر كشیده می شدند به كمك سربازها كه پره های چرخ ها را هل می دادند، تلوتلوخوران از شیب پل بالا می رفتند. چرخ دستی ها به سختی از پل بالا می رفتند و با عبور از آن ناپدید می شدند. روستایی ها در میان خاكی كه به قوزك شان می رسید به سختی قدم بر می داشتند. اما پیرمرد بی حركت آنجا نشسته بود. خسته تر از آن بود كه قدم از قدم بردارد.
ماموریت داشتم از پل عبور كنم، سمت دیگر پل را بررسی كنم و ببینم دشمن تا چه حد پیش روی كرده است. كارم را تمام كردم و برگشتم تنها چند گاری دیگر و تعدادی آدم پیاده باقی مانده بود اما پیرمرد هنوز همان جا بود.
از او پرسیدم« از كجا آمدی؟»
گفت « از سان كارلوس » و لبخند زد.
آنجا زادگاهش بود به همین دلیل به یاد آوردنش مایه دلخوشی اش شد و لبخند بر لبانش نشاند.
گفت « از حیوون ها نگهداری می كردم»
درست متوجه نشده بودم و گفتم « اه»
گفت « آره، می دونی موندم تا از حیوون ها نگهداری كنم. آخرین نفری بودم كه سان كارلوس رو ترك كردم.»
قیافه اش به چوپان ها و گاودارها نمی برد، به لباس های تیره ی خاك آلوده، چهره ی گرفته ی خاكی و عینك فلزی اش چشم دوختم و گفتم « چه حیوون هایی؟»
گفت « حیوون های مختلف» و سرش را تكان داد « مجبور شدم ولشون كنم»
داشتم به پل و دلتای ایبرو كه شبیه افریقا بود نگاه می كردم و به این فكر بوم كه چقدر طول می كشد تا دشمن به ما برسد و گوش به زنگ صدایی بودم كه نشانه ی مبارزه، این واقعه ی همیشه مرموز باشد و پیرمرد هنوز همان جا نشسته بود.
پرسیدم « چه حیوون هایی داشتی؟»
« همش سه نوع حیوون؛ دو تا بز، یه گربه و چهار جفت كبوتر»
«‌و مجبور شدی همشون رو ول كنی؟»
« آره به خاطر بمباران. سروان گفت كه به خاطر بمباران باید اونجا رو ترك كنم.»
در حالی به پایان پل چشم دوخته بودم و آخرین گاری هایی را كه با عجله از شیب پل پایین می رفتند نگاه می كردم پرسیدم « خانواده ای نداری؟»
« نه، فقط همون حیوون هایی كه گفتم. گربه ِ حتما سالم می مونه. گربه ها می تونن از خودشون مراقبت كنن اما نمی دونم چه بلایی سر بقیه شون میاد»
« كدوم طرفی هستی؟»
« با سیاست كاری ندارم. هفتاد و شش سالمه. تا حالا دوازده كیلومتر راه آمدم ولی فكر نكنم بتونم از این جلوتر برم.»
« اما اینجا جای امنی نیست. اگه بتونی جلوتر بری توی جاده ای كه به تورتوسا منشعب میشه كامیون گیرت میاد»
« یه كم استراحت می كنم بعد می رم. كامیون ها كجا می رن؟»
« میرن به سمت بارسلونا »
« اونجا هیچ كسی رو ندارم. اما خیلی ازت ممنونم. واقعا ازت ممنونم»
با چشمانی خسته و بی فروغ به من نگاه كرد و بعد گویی می خواست نگرانی اش را با كسی قسمت كند گفت « گربه ِ‌سالم می مونه، مطمئنم. برای گربه ِ جای نگرانی نیست اما بقیه شون نه. فكر میكنی چه بلای سر بقیه شون میاد؟»
« حتما از پسش برمیان و سالم میمونن»
« واقعا؟»
در حالی كه به آن سمت رود كه دیگرگاری نبود نگاه می كردم گفتم «‌چرا كه نه؟»
« اما وقتی به خاطر بمباران به من گفتن اونجا رو ترك كنم، اونها زیر بمباران چی كار می تونن بكنن؟»
« در قفس كبوترها رو باز گذاشتی؟»
«‌آره»
«‌خب پس حتما پرواز می كنن»
« بله اونها حتما پرواز می كنن اما بقیه شون چی. بهتره به بقیه شون فكر نكنم.»
« اگه خستگیت در رفته من برم.» و با اصرار گفتم « حالا دیگه بلندشو راه برو»
گفت « ممنون» و بلند شد روی پاهایش ایستاد، تلوتلو خورد و به پشت توی خاك ها نشست.
با خستگی گفت « از حیوون ها نگهداری می كردم» اما دیگر روی سخنش با من نبود. « فقط از حیوون ها نگهداری می كردم»
دیگر نمی شد كاری برایش كرد. یكشنبه ی عید پاك بود و فاشیست ها داشتند به سمت ایبرو پیشروی می كردند. آسمان ابری و گرفته بود و سقف پرواز كوتاه اجازه نمی داد كه هواپیماهایشان را به پرواز درآورند. این موضوع و اینكه گربه ها می توانستند از خود مراقبت كنند بزرگترین شانسی بود كه پیرمرد می توانست داشته باشد.
ترجمه یاسمن میرزائی

Sonnet I
FROM fairest creatures we desire increase,
That thereby beauty's rose might never die,
But as the riper should by time decease,
His tender heir might bear his memory:
But thou, contracted to thine own bright eyes,
Feed'st thy light'st flame with self-substantial fuel,
Making a famine where abundance lies,
Thyself thy foe, to thy sweet self too cruel.
Thou that art now the world's fresh ornament
And only herald to the gaudy spring,
Within thine own bud buriest thy content
And, tender churl, makest waste in niggarding.
Pity the world, or else this glutton be,
To eat the world's due, by the grave and thee.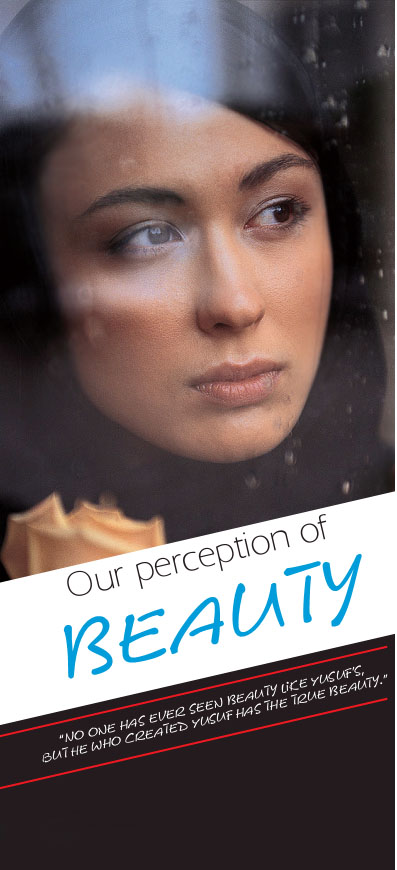 We live in a culture that exaggerates physical beauty above and beyond where its true status lies. The media and culture have indirectly pushed people's minds to treat beauty as one of the determinants of self-worth, especially in young girls and women. It becomes crucial for everyone of us to examine what beauty really is, and what role physical beauty has to play in our lives. Is beauty limited to physical characteristics or is there a higher dimension to it? Is beauty an independent trait or does it shine in people with good personalities? Although the answers to these questions are very subjective, the Islamic view of beauty helps us to shape our opinions in the best manner possible.

All Creation Is Beautiful
Although the eyes may not perceive every creation around us as beauty, the Qur'anic verse (32:7) tells us that all creation is beautiful. This verse is clearly talking about beauty on a higher level than the mere physical dimension that our eyes try to find in what they perceive. This verse urges us to appreciate beauty in all creation and to see the beauty in Allah's universe through observing how interconnected and orderly it is!
The Perception of Beauty
How does Islam view human beauty? Is physical beauty always looked upon as a positive trait? Needless to say, physical beauty is indeed a blessing – but according to Islamic teachings, beauty is just like any other material and perishable trait such as wealth, rank, and occupation. Physical beauty by itself has little worth and is given no significance in Islam if it does not accompany inner beauty (piety and good moral traits). Real beauty is what we carry with us in our journey to the hereafter: our good deeds. In the Holy Qur'an (3:106) we are reminded of Judgment Day when people's deeds will determine their physical appearance: "On the day when (some) faces shall turn white and (some) faces shall turn black; then as to those whose faces turn black: Did you disbelieve after your believing? Taste therefore the chastisement because you disbelieved.
"In our everyday lives we often come across people who may be good-looking but something about their character repels us from them; the reverse is also true for people who may not be so good-looking but appear beautiful to us because of their positive qualities. A recent article by plastic surgeon Dr. Robert Tornambe, published by the Huffington Post, presents an interesting conclusion about how the mind judges beauty. The article "What Makes a Person Ugly?" focuses on certain positive personality traits that serve to enhance and sometimes even determine how we perceive physical beauty. Some characteristics that are mentioned are self-confidence, cheerfulness, altruism, and optimism. When it comes to judging between physical beauty and personality, our mind inclines towards appreciating people who possess such positive traits and brighter souls.
Actions that Enhance Beauty Proximity to Allah and obeying His commands surely enhance one's beauty, both inner as well as physical beauty. The Holy Prophet (peace be upon him and his progeny) said, "Beauty is in the tongue (wording)". Good moral conduct is one basis of judging what qualifies as beauty. Ayatollah Hussain Madhahiri writes in his book Islamic Family-Life Ethics, "Sometimes speech is like the beauty spot on the face which enhances the beauty of the person." A person with good morals is truly beautiful inside out and wins peoples' hearts. In addition, some recommended actions enhance inner and outer beauty. One of them is the highly recommended Night Prayer (Salat al-Layl) that, when performed on a regular basis, enhances one's physical beauty. Allama Majlisi writes in his book on Salat alLayl: "Salat al-Layl makes one's face beautiful; beautifies one's etiquette; gives a pleasant smell to one's body and increases one's daily sustenance. It also removes sorrow and grief and gives strength to the eyes. "Hence, closeness to Allah creates both inner as well as outer beauty! In conclusion, below is a historic couplet that refers to the beauty of Prophet Yusuf (peace be upon him), whose beauty is a symbol of Allah's most beautiful creation: "No one has ever seen beauty like Yusuf's, But He who created Yusuf has the true beauty. "Let us try to reflect true eternal beauty from within ourselves!
the source: ISLAMIC ISIGHITS by: RABAB JAFFERY
برچسب ها: Islamic Articles ،

Slections from Nahaj AL-Balagha
1-

There is a tradition of the Holy Prophet "With the help of hair-dye turn old age into youth so that you do not resemble the Jews". When Imam Ali was asked to comment on this tradition he said that in the early stage of Islam there were very few Muslims. The Holy Prophet advised them to look young and energetic and not to adopt the fashion of the Jews (priest) having long white flowing beards. But the Muslims were not in minority then theirs was a strong and powerful state they could take up any style they liked.



2-

For those who refused to side with any party Imam Ali or his enemies Imam Ali said: They have forsaken religion and are of no use to infidelity also.
3-

One who rushes madly after inordinate desire runs the risk of encountering destruction and death.
4-

Overlook and forgive the weaknesses of the generous people because if they fall down Allah will help them.
5-

Failures are often the results of timidity and fears; disappointments are the results of bashfulness; hours of leisure pass away like summer-clouds therefore do not waste opportunity of doing good.
6- If the right usurped from us is given back to us we shall take it otherwise we shall go on claiming it.

7-

If someone›s deeds lower his position his pedigree cannot elevate it.
8-

To render relief to the distressed and to help the oppressed make amends for great sins.
9-

O son of Adam when you see that your Lord the Glorified bestows His Favors on you while you disobey Him you should fear Him (take warning that His Wrath may not turn those very blessings into misfortunes).
10-

Often your utterances and expressions of your face leak out the secrets of your hidden thoughts. 26- When you get ill do not get nervous about it and try as much as possible to be hopeful.
11-

The best form of devotion to the service of Allah is not to make a show of it.
12- When you have to depart from this world and have to meet death (eventually) then why wish delay (why feel nervous about death). 13- Take warning ! He has not exposed so many of your sinful activities that it appears as if He has forgiven you (it may be that He has given you time to repent).


the
source:
Hussein Revivalism magazine no 7
برچسب ها: Imam Ali ، Nahj Al-Balagha ،